Considered one of the most influential contemporary artists, Dieter Roth produced artworks in various media, from graphics, drawings, and sculptures, to assemblages / ready-made, sound and music recordings. Dieter Roth's Verlag was founded in 1974.

Featuring: Colette Roper "Piano Pieces" / Dieter Roth "Thy Quatsch Est Min Castello" / Nam June Paik "My Jubilee Ist Unverhemmet"

Colette Roper's "Piano Pieces", which was released in 1979, was one of the hardest to find albums among Dieter Roth's Verlag catalogues. Much is unknown about Colette Roper and "Piano Pieces" was her only album. Remastered by Jos Smolder in 2022 and released March 3, 2023 as a split between Art Into Life and Tochnit Aleph/Rumpsti Pumsti (Musik).

From 1977 to 1979 Dieter Roth and Nam June Paik made artistic interventions that manipulated the speed of Arnold Schoenberg's play "Verklärte Nacht, opus 4". Titled "My Jubilee Ist Unverhemmet", Paik's version played the record 4 times slower (on 16 RPM) in a Merce Cunningham dance event. When Roth heard Paik's version, he played "Verklärte Nacht, opus 4" at four times the original speed and recorded this accelerated version as his own piece of music on vinyl. The title of his version is: "THY QUATSCH est min Castello"
From the sleave of Colette Roper "Piano Pieces":
 Nam June Paik's "My Jubilee Ist Unverhemmet", is slowed up Schoenberg to match a classic immigrant's tale of great hope followed by disappointment and absurd levels of persistence. I love this story, in his words a pic I took at the Nam Jun Paik museum outside of Seoul: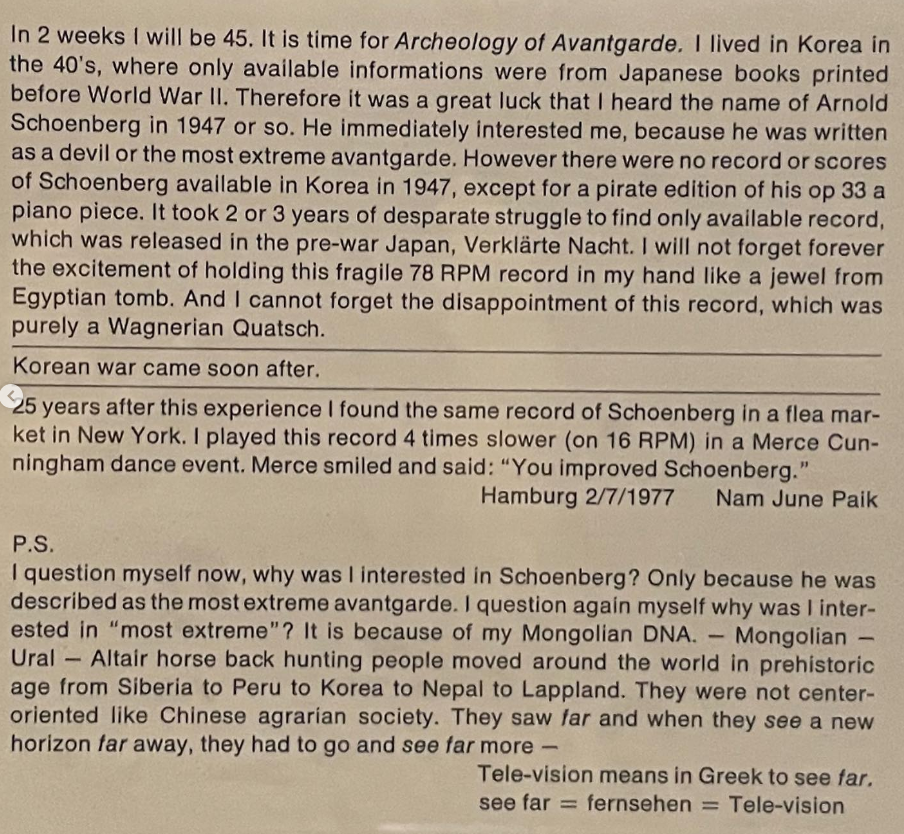 ➚Listen to the whole segment here on MPR ---->
➚