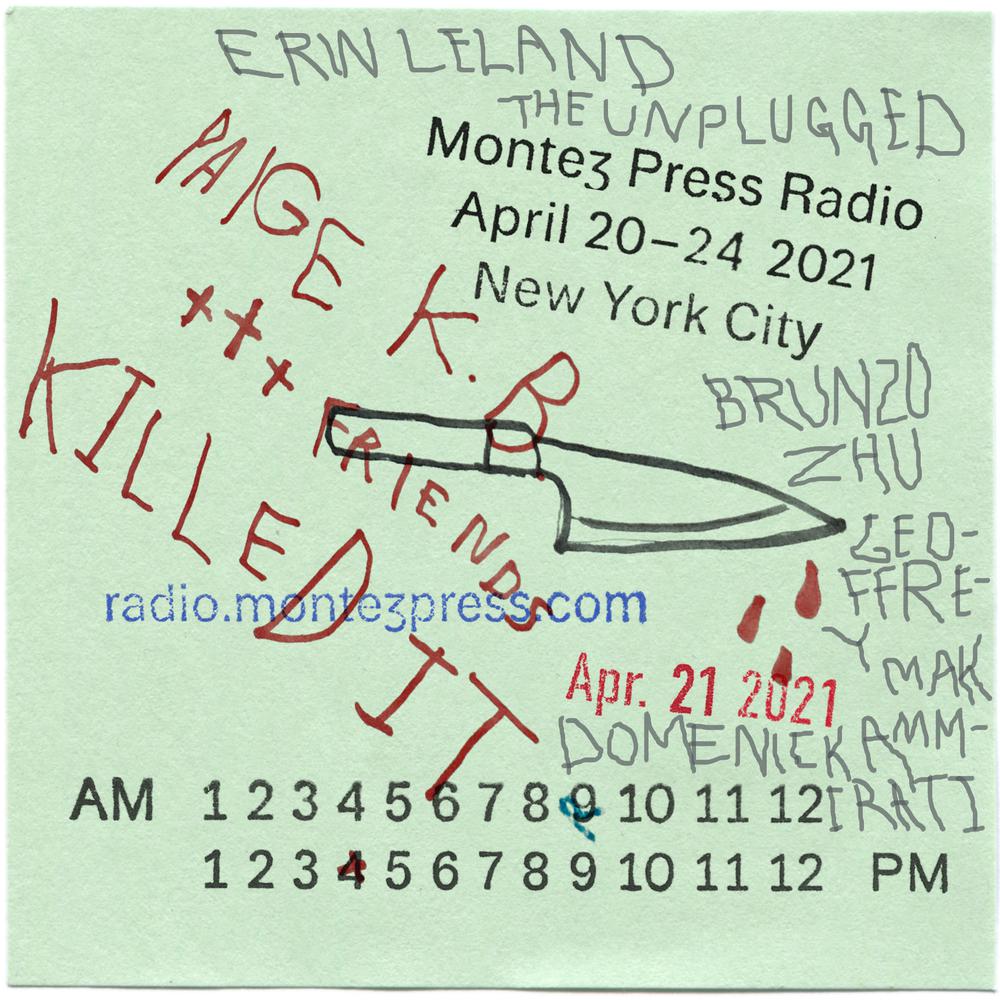 Organized by art writer and compulsive producer of relationships, Paige K.B., and including friends, "Killed It" is a collection of writing that never made the publisher's chopping block. They include a review of Jay Chung Q Takeki Maeda's Bad Driver that Artforum didn't think was PC (?), expcerpts from Bruno Zhu's dirty diary, a short story from Erin Leland, and more. In Paiges words, "Artists and writers are perhaps preternaturally disposed to producing their works regardless of places to put it. Sometimes there's an overflow, and no one really knows just what to do with it. Or, you just can't reach people sometimes, and if they don't get it, then forget it! Interesting or promising work can get shot down, shelved, sabotaged, scraped off the plate, killed before it could live. Shit happens. But in the spirit of ars longa, vita brevis, a few voices here gather together our rejects and unpublishables with a view towards sparking a little afterlife"
➚LISTEN to the segment.
Listen to another ➚"Loser Anthem"
Or read the dessicated ----------------------->
--
Paige K.B.:
This is an essay I wrote this winter about an exhibition by the artists Jay Chung and Q Takeki Maeda at Essex Street, a gallery on the Lower East Side. I was commissioned to write a shorter review on it for a publication of note. It turned out to be impossible to usher this into publication, due to some bad driving in the editorial department. I applaud them however for defying ugly racial stereotypes, and proving that white people, too, can be atrocious at steering. This is the full text as I wanted it to be, as it should be, which I believe has value. Any comments, questions, or substantive concerns regarding it can be sent directly to me at ➚paigekbradley@gmail.com.
An acerbic, even contemptuous wit hums throughout the work of artist duo Jay Chung and Q Takeki Maeda. Working together since their school days at the Städelschule in Frankfurt ca. 2001–03, where they studied with Danh Vō, the exhibitions they've produced often can't be taken straight. They give excerpts from a web of relations that invariably unfurl through various times and locations beyond a particular show's situation, in ways that nearly become topographical in their traverse across international borders or lines of explicable gesture. In 2012, for instance, they made a series of printed banners, featuring quaintly rendered horses wearing charming chapeaus, in honor of their collaboration's ten-year anniversary. Versions of these pieces also served as advertising banners at a show-jumping competition in Ladeburg, Germany, at which the top horse was given a prize that a portion of the artists' own institutional production budget, from a show at REDCAT in Los Angeles, endowed. A show pony turning out their tricks and scaling ever-new heights for winnings, until their owners decide to put them out to pasture. Get it?
Their latest outing at Essex Street far outpaced such pageantry, and consisted of one ambitious work: Bad Driver, 2020. It's a twelve-volume anthology that matter-of-factly catalogues an array of East Asian stereotypes; the work's title is based on that old chestnut that people of Asian descent are shit behind the wheel. Each 211-page book was primly centered on the writing surface of a combination desk-chair—the kind of apparatus a serious academic-in-training is forced to abuse their skeleton with for years at a time. Every volume was bound with tan thread between stodgy-looking, black Buckram covers; all together, they looked like a set of finished graduate theses, ready to languish in the stacks of history, as if the matters within this artwork were a settled affair. Embossed on the front of every book was the work's title along with a numbered subheading—such as 1. virtuous maidens, 3. worker drones, or 11. sex, dog eating—printed in an ominous, snow-white typeface in all-caps. These numbered titles each corresponded to this single-edition book's particular chapters (though every copy was printed with all preceding and subsequent sections) flagged with a flimsy yellow Post-It note.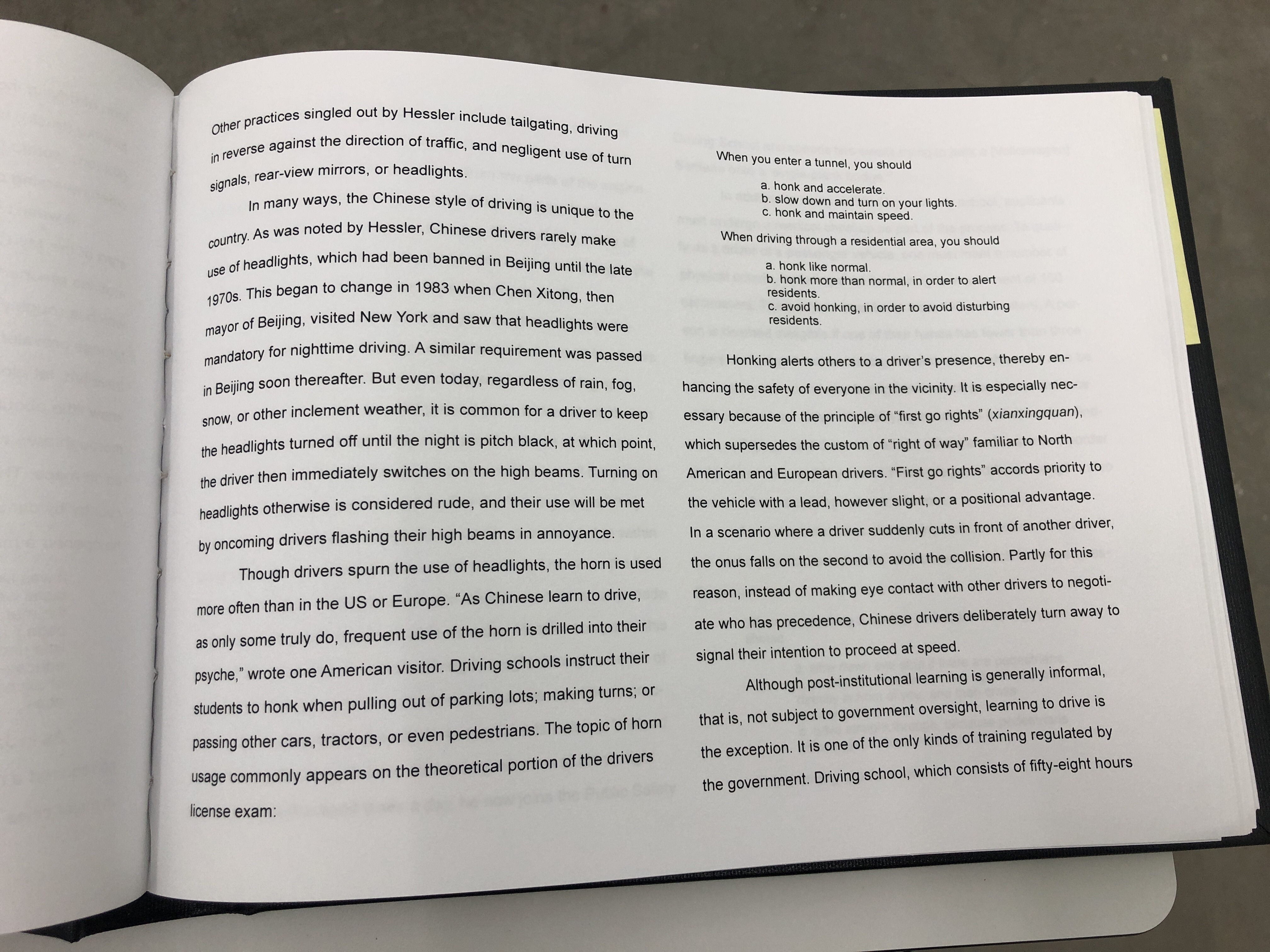 Where did these stories of violin prodigies, honor-bound virgins, hard-studying bachelors, and the like, come from? Who is speaking, and why are they telling us this? "Experts," it turns out, though they've been ghosted here, with no footnotes or bibliography giving their traces. The book is a compendium of the well-trodden—all researched and rewritten from other scholarly academic sources over the course of three years—and constitutes a rigorous, darkly comic, and ingenious trap disguised as a rational, pedagogical encounter. School—it's where we learn what we think we know.
Bad Driver's classroom has precedent: Recall the reworkings of racially charged tropes in Betye Saar's 1972 assemblage The Liberation of Aunt Jemima, which has been credited by no less than Angela Davis with starting the Black women's movement, per a talk she gave at the Museum of Contemporary Art, Los Angeles on the occasion of the 2007 exhibition "WACK! Art and the Feminist Revolution." Or consider poet and criminal appellate attorney Vanessa Place's rape joke performance, the basis of which was a collection of such material from the internet, later published by Place in book form in 2018 under the title You Had to Be There: Rape Jokes. These and Bad Driver are made, and remade, from found material and fashioned into a blunt instrument of total discomfort—and laughter—if one is willing to endure the gauntlet necessary to reach any kind of real understanding of the conspiracy of prejudice, its violence, and other attendant functions.
Some saps, especially those who fancy themselves enlightened, or at least not racist, might uncritically accept this book, which is presented in the authoritative trappings one would expect from a respectable institution. When they encounter personages striving to pass exams, sacrificing themselves for some social custom, or devotedly painting bamboo, they could easily take it at face value, since these are the only sorts of characters of the realm presented here. Regardless of the factual status of some particular individual tale being told, the story of Bad Driver is not true, and perhaps would be more accurately considered a poisoned well. When there's no true diversity, admirable or not, or counterexamples narrated, there's a slow, numbing effect of acquiescence to what's being ladled out. It's seemingly all there, and yet so much is missing, such as a single person living or dead who doesn't fit a profile.
Is Bad Driver's history of the Suzuki method's creator's life accurate? It would appear so—I fact checked it in good faith—but is that all that is so? How does it function in this context? It is in this dazed, questioning state that the book can become for a reader a wander through a hall of mirrors in which one sees not people, just ciphers and reflections with no source. It's what we've been told is so, edited down from reality into belief. Think of it as the inverse of Jorge Luis Borges's description of the fictional Chinese author Ts'ui Pen's ambitious yet incomplete book in the Argentinean writer's 1941 story The Garden of Forking Paths: "an incomplete, but not false, image of the universe as Ts'ui Pen conceived it." The compendium of Bad Driver—perhaps designed to afflict the comfortable, but in a manner subtle enough to fly over the heads of the nervous or simple—could instead be called a complete falsehood due to its total image of a predictable universe of Asian-ness. The artists did not conceive its contents, but nevertheless, as people of Asian descent, they may well have its narrative roles projected onto them, the racist tropes that they are implicitly or explicitly expected to have a relationship to. Engaging with this work is bracing, perhaps only a few degrees warmer than a trip to the Arctic (a feat that Jay and Q have also undertaken).
Bad Driver sends up the anti-intellectual nature of racism by going to the source: the educated, authoritative institutions that have dutifully spun the tales ever retold in a folkloric tradition of biased repetition. The work appeared in a respectably commanding, cool, and collected form, but despair lurked at its core, buoyed by its quotations of often specious, anecdotal evidence and such "experts" as the "one American visitor" who claims in the bad driver section of the anthology the following: "As Chinese learn to drive, as only some truly do, frequent use of the horn is drilled into their psyche." Who cares what an American tourist thinks? What in the world does "truly" mean here? To whit, such a citation should be shocking, but it would certainly not be surprising to find a person who would believe it.
Would, say, Thai or Vietnamese people be offended or relieved to be excluded from this book's narrative? Who would recognize themselves here anyway? Indeed, that is the rub, as the book's preface—the only bylined section of the book—by the artists' collaborator Kitty Chiu aptly notes, this work "is essentially concerned with Americans . . . If a person in South Korea, or Vietnam, or any other Asian country were to pick up this work, not only would they not recognize themselves in it, but it would appear as gibberish." And yet some, still, find the stories it contains all so true. In which case, Jay and Q, per James Baldwin, have given your problem back to you. Watch the road.
Bruno Zhu / Diary
Hi! My name is Bruno Zhu. I'm an artist, and today I'll be reading a few diary entries I wrote two summers ago concerning a potential gay apocalypse.
Twinkle twinkle porno stars, how I wonder what you are. These were the last words of the radio broadcast before the great fog fell upon us.
Day 354
It's been almost a year since I last watched porn. The world has gradually collapsed into a state of horny hysteria. Men are penetrating rocks while women are crafting vegan strap-ons from inbreed carrots. Dildos have fallen out of use because there is no fantasy behind them anymore. It's a disaster. I had to leave my job because my boss caught me jerking off into a frappuccino, mistaking my penis for the foam maker. I'm so broke. The country economy is in ruins so I can't access my unemployment benefits. 70% of the population is living like me: barely holding any job, our horny minds taking over our mechanical knowledge. The other day a friend of mine was caught with a potato peeler stuck on his foreskin. A female friend was found stuffing a doughnut up her vulva for a vaginal ring. My mother threw herself off the bridge because she no longer knew what meant to feel wet. My father followed her, believing she was an inflatable sex doll blown away by the wind. I am miserable and I am gay, which makes this whole thing messier. Nobody wants to have sex with me because with no porn there are no fetishes. Thus I am displaced. What am I? Who am I? I am so lost. I don't know what rimming means anymore. Is that related to ice skating? I am hopeless.
Day 492
In the days following my last journal entry, the gays started to vanish one by one at an alarming rate. Rumour has it that the government is gathering all the gays and sending them to Paris. There were talks and whispers about Montmatre becoming the set for an epic LARP event, videotaped and broadcast live where participants would be given a sexual character to perform. Feminist coalitions were initially regulating the fairness of the casting process, but males both homosexual and heterosexuals grew impatient and pushed for male gays to be sent there. They could wear wigs and dresses and look hotter than most women some of them said, including straight people who clearly revealed to be bicurious. My friends are disappearing everyday. I am suspicious of Café Rabeta across my apartment. Denis went in two weeks ago for a three-day long rave and I haven't heard from him since. His Grindr profile is active and moving about, but they could have given the phone to any of these Deliveroo boys cycling around town. I have heard they are also part of this scheme, providing data to the city hall: what do gays eat, when do they order, who are they with, etc... The city is sending intel to french authorities so they can redevelop Montmartre to cater our kind. My Parisian friends have been put under surveillance and the only way I can reach them is via their sex cam, where a peculiar protocol protects them from government surveillance. I fear for my life. I have reduced my diet to rice crackers and hummus. It's the most common snack amongst Soulcycling ladies and gym hunks. I can't let them take me.
Day 497
It's happening, they are taking me! They are rounding up my belongings, they found my cucumber, my love object! My life is over! if you read this note please tell my story to the world! This is the greatest injustice, they broke my cucumber! My anus is nothing!